The Cottage Tavern, Ashorne, Warwickshire
Recent research has shown that over thirty pubs a week are calling time on last orders with the closures worst in the rural areas of Britain. There are many reasons why our village pubs continue to close, factors such as high taxes on beer, competition from supermarkets selling cheap alcohol, changing demographics and the coronavirus pandemic continues to wreak havoc on the sector, so it is very encouraging to come across a pub which is thriving within its local community during this difficult climate.
I was invited to The Cottage Tavern, a small compact village pub in Ashorne, Warwickshire, for Sunday lunch by new managers Tim Sidwell and Mark Williams. Long-time friends Tim and Mark took over the pub in May and spent the next six weeks decorating, adding new furnishings, transforming the cellar, and re-designing the garden before their grand opening on 19 June.
`Bartender` Mark and `Front of House` Tim first worked together at the historic Cotswold pub, The Howard Arms in Ilmington. Tim explained to me that it was ironically the covid lockdowns which prompted the two friends to combine their extensive knowledge of the pub & hospitality trade to open their own pub. "It was a suitable time to take that `leap of faith in our abilities and experience & take on a new challenge!
" Shoot for the Moon, even if you miss you`ll land among the stars"
At the start of the 19th century there had been two schools in Ashorne, The British School (1843) & a Church of England school. The original `Tavern` building was built in 1870 at the end of the 19th century. At the turn of the 20th century, the village had an Inn, General Store, Bakery, Smithy, carriers Yard, school & congregational Chapel. Today only the pub remains!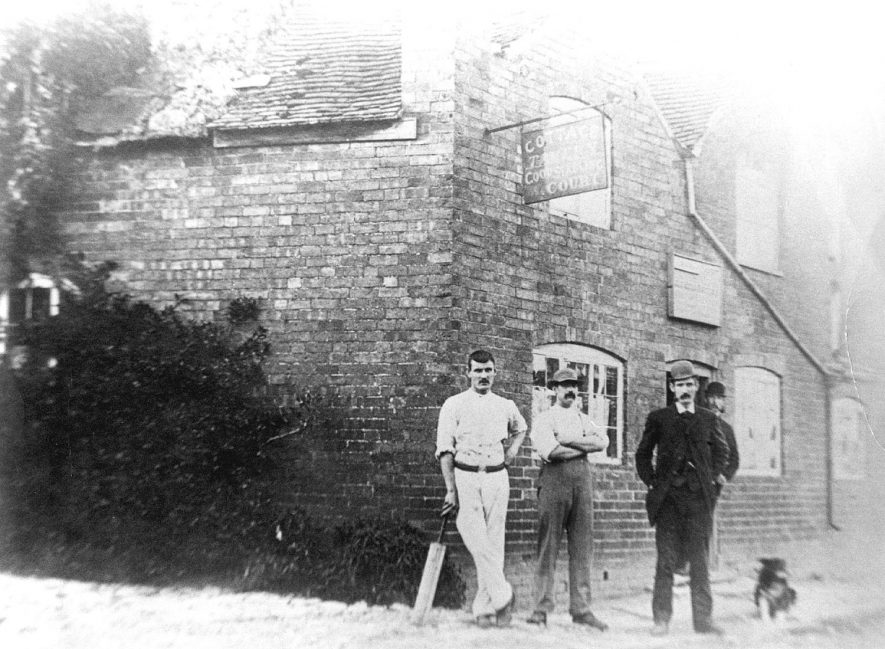 Although heavily restored over the last one hundred & fifty years the Gable dormers, roughcast cream painted rendered exterior walls, red clay roof tiles & red brick chimneys appear to still remain! The Cottage Tavern is still a very prominent landmark as you approach this linear village from the west.
The Cottage Tavern appears to be very popular with locals & visitors from outside the village. Whilst enjoying our meal I noticed several local people coming in off the street, not only to eat in the restaurant but to sit and enjoy a drink with friends. It is obviously still very much a local for the community as well as a fine pub restaurant. There is no car park at the pub itself so parking is where you can find it although there is a village hall a few hundred yards down the street!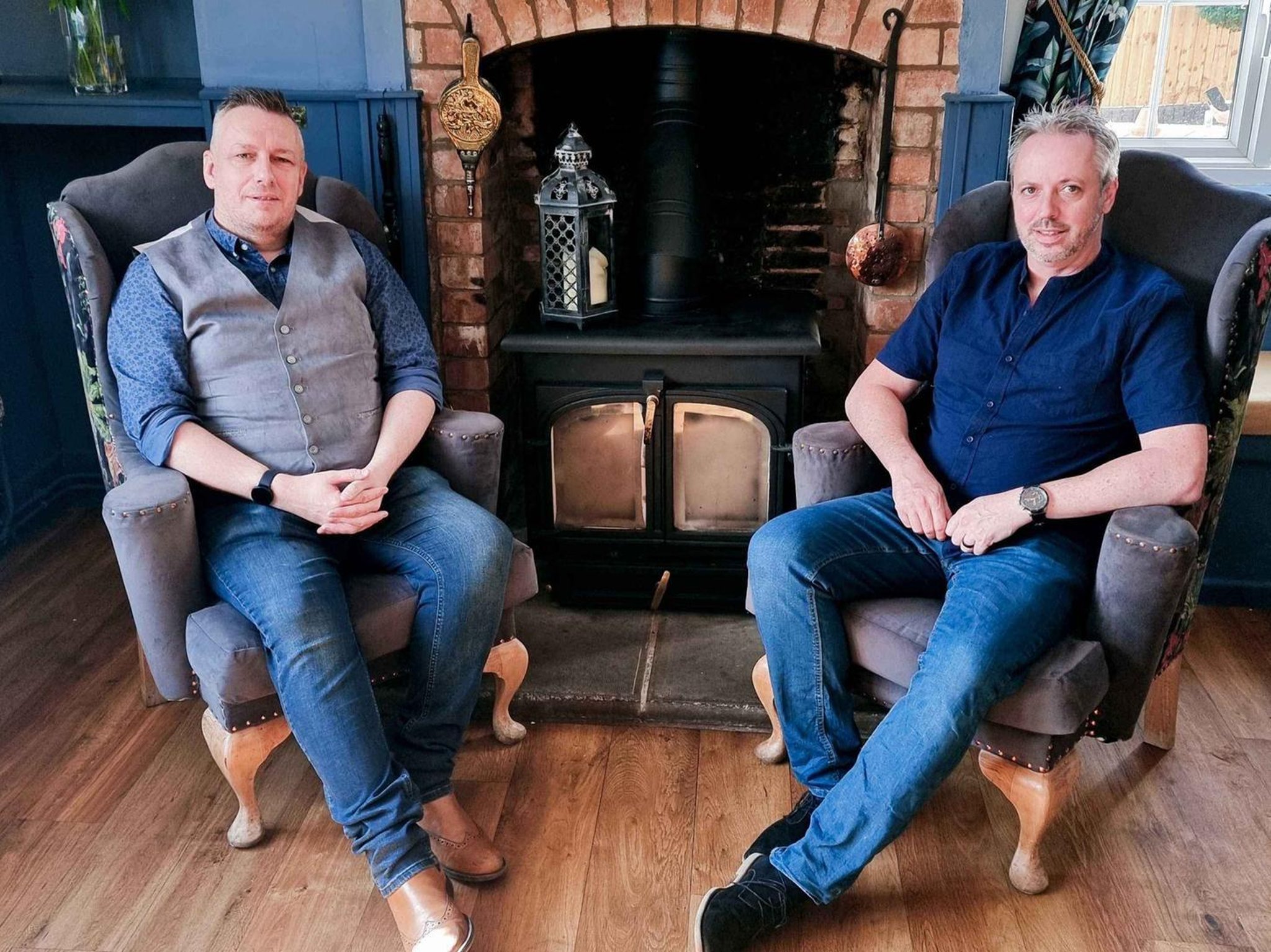 The Cottage Tavern is a small compact village pub. When my wife & I entered the Tavern, hosts Mark & Tim warmly welcomed us. The bar is centrally positioned splitting the pub comfortably into two sections, painted a modern pastel blue to the left complemented with a rich forest green to the right There is a fire place at each end of the pub.
We are delighted to have brought our experience and passion to The Cottage Tavern and revitalised a tired village pub. It's been our aim to make the local community and the wider area proud and to give everyone a pub they can love whether its popping in for a half pint of ale or enjoying a 3-course meal. We look forward to welcoming visitors and putting The Cottage Tavern firmly on the culinary map as a destination pub in Warwickshire.

Mark
Both Mark & Tim were efficient and seasoned professionals, and nothing was too much trouble for them, which was really appreciated. They delivered a very high quality service throughout our meal. They also took the time to learn & remember our names and engaged with my wife and I in bouts of genuine conversation.
The menu has undergone a radical change and offers a daily changing blackboard menu using locally sourced produce, the 3-course Sunday lunch, and a regular Thursday steak night. Food at The Cottage Tavern is traditional but with many international influences.
Chef Ryan Davies came out from the kitchen and took the time to speak with me for a while. Ryan told me that he tries to source as much of the fresh produce he uses from local Midland producers whenever possible, thus reducing its carbon footprint and villagers sometimes turn up at his kitchen door with fresh produce from their own gardens, which can very quickly find its way on to the menu! How fresh is that?
Ryan was trained at Jamie Oliver's Fifteen Academy and was one year awarded 'apprentice of the year.' He described his food as 'hearty, fresh, homemade seasonal produce made with a lot of passion.' Ryan is obviously very enthusiastic about his cooking and is an ambitious young chef. He has previously worked under a Michelin starred chef at Bistro Bruno Loubet for three years as well as The Falcon Inn in Denham and a large chain restaurant, Miller and Carter in Stratford Upon Avon & London, but he is now very much enjoying the freedom to express himself in this authentic pub restaurant.
Tim took the time to explain the menu to my wife & I and made some excellent recommendations from the wine list. He also laughed at my attempts at comedy, which was admirable! It made us feel very special. A touch of sincere pub hospitality, which was very welcoming. The Cottage Tavern is a fine example of a quintessential old English village Inn, where the community comes together, and visitors are made to feel very welcome. You can grab a simple snack or stay and linger over a sumptuous meal.
Drinks:
Guest Ale: PHIPPS IPA (4.3%) Brewed to an authentic 1930s recipe, is a golden beer relying solely on the pale ale malt in its grist for its colour.
Prescott Hill Climb (3.8%) – A wonderfully fruity and light refreshing IPA. Cascade and Bobeck hops are combined with Maris otter pale malt and Torrified wheat to create an award winning ale.
Wye Valley Wholesome Stout – A smooth dark stout
The Cottage Tavern – Apple Shed Cider & Berry Cider
Bottled Ciders: Koppaberg Strawberry & Lime, Magners Original & Old Mout Watermelon & Lime
Lagers: Carling Black Label , Madri Exceptional & one other?
The Cottage Tavern also has a very comprehensive wine list from which my wife was recommended a glass of the Italian Sangiovese Primi Soli which was an elegant combination of cherries & red fruits with a soft tannin structure, which my wife said was the perfect wine for her Rib Eye of Beef.
Food:
Roast Ribeye of Beef, Roast Potatoes, Seasonal Vegetables, Yorkshire Pudding & Ryans Onion Gravy. The beef was very tender.
Roasted lemon &Thyme Chicken, Roast Potatoes, Seasonal Vegetables, Yorkshire Pudding & Sage Gravy. Chicken roast served in tasty chunky pieces.
The vegetables of sprouted broccoli, cauliflower, baby carrots & roast potatoes were perfectly cooked and the perfect accompaniment to our Sunday roast. The Onion & Sage Gravy were very tasty. I must admit to trying some of my wife's meal and can vouch that both dishes were beautifully cooked and presented to table.
Desserts:
White Chocolate Strawberry & Pistachio Cheesecake Peach, Orange & Vodka Ice Cream. The cheesecake was impressive! Crunchy pieces of chocolate & pistachio. A delicious biscuit base. Loved it so much.
The Taverners Cheese Selection: Godminster Cheddar cheese is made using pasteurised milk, Blue Stilton an English cheese which has had Penicillium roqueforti added to generate a characteristic smell and taste. Somerset Driftwood is a beautifully creamy and soft textured goats' cheese. Dusted in ash, with a geotrichum rind you may notice subtle peppery and earthy undertones, while also boasting citrus notes. Red Windsor is a pale cream English cheddar cheese from Leicestershire, made using pasteurised cow's milk marbled with a wine, often a Bordeaux wine or a blend of port wine & brandy.
There was a selection of cheese biscuits & crackers, celery & grapes. Such a large cheese board we asked for & were given a `doggy box` to take home what cheese we couldn't eat!
Tim said that there is a very popular and challenging weekly evening quiz and regular Friday Live Music Evenings, as well as many community club evenings including a darts team!
Local vocalists & musicians Caitlyn Murray, Ms Songbird & Hannah M Woof were already chalked up to appear over the next few months including a Good `ole` Christmas Eve Sing Song special!
Have you thought about visiting a new pub restaurant, for that special dining experience?
Why not treat a loved one to an early Christmas meal? Two & Three course Christmas meals are available from 1st – 23rd December.
Why not visit The Cottage Tavern for that special occasion. You won't regret it. I had a great time.
The Cottage Taverns biggest asset are the staff themselves, Mark at the Bar, Tim on front of House & Ryan in his kitchen. They are a great team.
For tasty food, friendly professional service, and quality ales, in a local friendly pub atmosphere, The Cottage Tavern is a smart choice. The food was very good, beautifully cooked, and professionally presented to table. A great local pub & restaurant!!
By providing such excellent quality food and drink combined with the warm, friendly hospitality, this classic village pub is sure to win awards for its food and hospitality over the next couple of years. It certainly comes highly recommended from me!
The Cottage Tavern is closed on a Monday and re-opens on a Tuesday at 5pm. It then opens from 12pm till close from Wednesday to Sunday.
For more information, please visit The Cottage Tavern, Ashorne, Warwick CV35 9DR
Did You Know? Ashorne is a village in Warwickshire and is part of the parish of Newbold Pacey. Ashorne is seven miles (11 km) from Stratford-upon-Avon and 4.5 miles (7 km) from Warwick Castle!
In more recent times the village has built a new village hall which replaced a hut dating from the First World War. Unfortunately, the village has lost its school, post office and shop (but not its pub!) The chapel has been sold and converted into a house. I was told that Ashorne cricket Club is the only club in England to have to cross a water source, which is called the Thelshold brook, to get to the clubhouse from the field of play!
Local folklore says that Ashorne came into being when a gentleman named Edward Carew came to Newbold Pacey to escape the plague in London but brought it with him! The villagers decided to cross Oozley Brook to escape the plague and built their houses in Ashorne. Ashorne is an Anglo-Saxon word for north-east, so it signifies the north-east corner of the parish!
In Ashorne the oldest houses are around the Green, except Stonehouse Farm House, which is mentioned in the Domesday Book. Several of the houses are wattle and daub, the marl being collected from the 'Holloway', which is now a 'C' class road. At one time this was the only way in and out of the village.
For more information, please visit https://www.thecottagetavern.co.uk/